Mondragon University (MU)
Who are we?
Mondragon University was created in 1997 by the association of three educational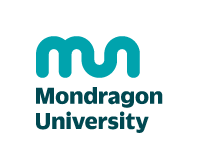 cooperatives, with an extensive career and experience in the world of education. Nowadays it has 4 Faculties in the areas of Engineering, Business Studies, Humanities and Education Sciences and Culinary Science. With more than 5.000 students and over 6.000 professionals trained every year, the university offers 17 undergraduate degrees, over 15 master degrees and many other courses and training for professionals and companies.
We are a cooperative university, which belongs to the MONDRAGON Corporation, with a clear human vocation and a commitment to our environment, our society and our time.
Our teaching model involves a system of relationships which, with the educational system as the central theme, aims to involve the companies and institutions, in order to guarantee social accessibility, the combination of work and study, the development of research and the provision of Continuing Education.
We are a practical university immersed in entrepreneurial reality. A university aimed at people to whom concepts such as solidarity, cooperation, social justice, equality and sharing are important. People who are searching for unique experiences, who yearn for transformation, with a distinct personality, who are restless, entrepreneurial and innovative and wish to design and take control of their own future.
A university with a reliable and high-quality educational proposal, equipped with state-of-the-art technological facilities potentially capable of anticipating future changes. A university that combines training, research and transfer with the vocation to guide all its activities in order to improve the competitive position of companies and organisations.
A university moored in cooperative values and ideals, founded on an innovative and distinct educational model. Committed to the future of individuals from a long-term, dynamic, creative, world-embracing perspective with an international focus and local anchoring.
Why we are Participating in the Project
As it is stated in our mission, at Mondragon University we have a commitment towards social transformation, not only through what we do but also through how we do it, and we believe the aims of this Project can contribute to the fulfilment of that commitment. As a cooperative institution, we were born as a project of social initiative, where values such as inclusion, shared and participatory management and the response to a diverse and constantly changing society constitute our reason for being. We have always worked to ensure that students participate in the development of the University´s objectives, participating in the main decision taking boards. However, it is true that now, more than ever, students of Professional Higher Education Institutions are becoming more and more diverse and it is necessary to work on strategies that will help us all promote the inclusion and engagement of non-traditional students in the institution´s development.
Our Role in the Project
Mondragon University´s co-operative status provides a unique feature in organisational terms. As such, it has a series of management bodies, with strategic decision-making powers, made up of both members of the cooperative itself and delegates from the student body and businesses and institutions. This has made it possible for the group of people who constitute the university (staff, students and companies-institutions) to be co-participants and co-responsible for it, facilitating their full participation in the university's strategic decisions and development.
Therefore, we have a wide experience in students´ participation and engagement processes, which we believe might be an interesting contribution to the aims of this project.
Furthermore, Mondragon University´s research activity and extended knowledge includes areas related to transformational leadership, participatory processes, multicultural issues, etc. which will also contribute to the success of this project.
And, as for our main role, in addition to leading the project and cooperating in all intellectual outputs that will be developed throughout the project, we will co-lead, together with ESU (European Student Union) the tasks involved in setting up the framework for PHE Institutional strategy for inclusive engagement of non-traditional students, through the development of specific strategies and guidelines.
Our Team

Jon Altuna
Academic Vice-Rector
Academic Vice-Rector since 2011, he received his Ph.D degree in electronics engineering from the University of Edinburgh in 1997 and worked as a lecturer and researcher at MU since then. In his current position he is mainly involved in the development of (dual) co-operative education, internationalisation, quality assurance and educational innovation.
InclusiPHE

Idoia Peñacoba Etxebarria
General Secretary and Finance Director
Responsible for the Social Engagement Area of the University which includes Social Accessibility, Gender, Basque Language and Health and Wellbeing. She has been a member of the Board of Directors of MONDRAGON UNIVERSITY since 2000. She is responsible for coordinating various transversal inter-faculty projects, such as those related to gender issues.
InclusiPHE

Agurtzane Martinez
Research professor and coordinator of Master in learning facilitation & innovation
She received her PhD in Pedagogy from the University of the Basque Country (Spain) and her research focuses on inclusive education, innovative processes in education and professional development of teachers. She has participated in different competitive projects on learning facilitation and innovation with a special emphasis on participatory processes.
InclusiPHE

Ane Urizar
Lecturer and researcher in the Faculty of Humanities & Educational Sciences
Received her Ph.D degree in intercultural education from Mondragon University and worked as a lecturer and researcher at Mondragon University since 2000. Nowadays she is mainly involved in the field of multicultural and multilingual education, and she has participated in several projects related to that particular topic.
InclusiPHE

Monica Gago
Researcher of the Faculty of Business
Member of the Governing Board of the Faculty from 2014-2018. She received her PhD in Economics in 2001 and her research area focuses on the analysis of the factors that influence the participation in decision making in co-operatives and other organisations. She has been involved in several projects on transformational leadership and worker participation with co-operatives and public institutions.
InclusiPHE